Organic
All our dried fruit and nuts are from organic farming and are certified organic by Ecocert, guaranteeing that they are grown without synthetic chemicals such as pesticides or GMOs.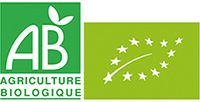 BIOPARTENAIRE ® :
The only ul associative and universal label, controlled by a third-party organisation, 100% fair trade AND organic. Agro Sourcing is a member of the Biopartenaire association and is gradually labellising its dried fruits and nuts programs. Labellised products:
pineapples from Rwanda
,
fresh Mazafati date from Iran
,
dried fruit and nuts from Turkey
(mulberries, hazelnuts, figs, apricots, raisins),
dates from Tunisia
,
Brazil nuts from Bolivia
,
cashew nuts from Vietnam
,
dried bananas from Ecuador.
More information on : www.biopartenaire.com
Fair TSA :
Our banans chips are fair trade certified and benefit from the Fair TSA label. When our producers are already fair trade certified according to a standard consistent with our commitments, we have cosen to support them in their approach and use the label already in place in order to maximize our impact and help them as best as we can. This is the case for our banana producer in The Philippines. More information on :
www.fairtsa.org/celebes